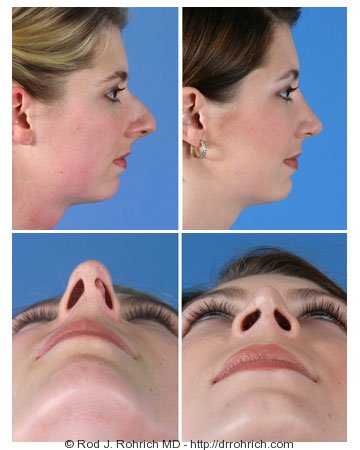 Rhinoplasty, also known as nose reshaping, or a nose job, is a surgical procedure that can alter the shape and appearance of the nose. Dr. Rohrich performs this procedure regularly in his Dallas based practice.
Rhinoplasty best addresses many aspects of the nose and its underlying structure including:
Tip of the nose
Bulbous Tip
Boxy Tip
Droopy Tip
Dorsal Hump Reduction
Breathing Difficulties
Deviated Septum
There are two types of rhinoplasty which Dr. Rohrich performs in Dallas, Texas: open rhinoplasty and endonasal or closed rhinoplasty. Dr. Rohrich prefers to perform open rhinoplasty because the open approach gives the surgeon a direct view of and access to the underlying structures of the nose. For the best rhinoplasty results, this is the method he advocates in his course as the Chair of the Dallas Rhinoplasty Meeting, widely regarded as the premiere rhinoplasty teaching conference in the world, as well as the procedure he routinely performs in his clinical practice at the Dallas Plastic Surgery Institute.
This approach is preferred as it allows Dr. Rohrich to perform the rhinoplasty with a much greater precision and care, improving results and patient satisfaction. Dr. Rohrich feels that the open rhinoplasty gives the opportunity for the best results for both subtle and dramatic changes in the nose.
Modern Rhinoplasty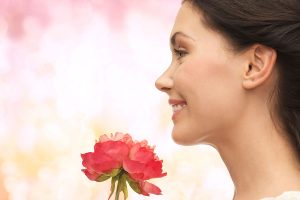 A very common misconception about rhinoplasty is that it will give you a nose that looks similar to the nose of anyone who has had a rhinoplasty by the same surgeon. In the past, even the best surgeons did not have the same kind of diversity with surgical procedures for rhinoplasty and they developed their own techniques which often resulted in similar looking noses.
In the decades since then, cosmetic surgeons have been trained in a much wider variety of techniques to address each patient as a completely unique case with a customized treatment and surgical plan for rhinoplasty depending on their specific features. Today, the best rhinoplasty is one which creates a natural looking result.
Dr. Rohrich has been a long advocate of advancing the art of rhinoplasty, co-authoring one of the leading textbooks on the topic, Dallas Rhinoplasty: Nasal surgery by the Masters in addition to presiding over the annual Dallas Rhinoplasty Meeting as the co-chairman, an event attended by surgeons from around the world.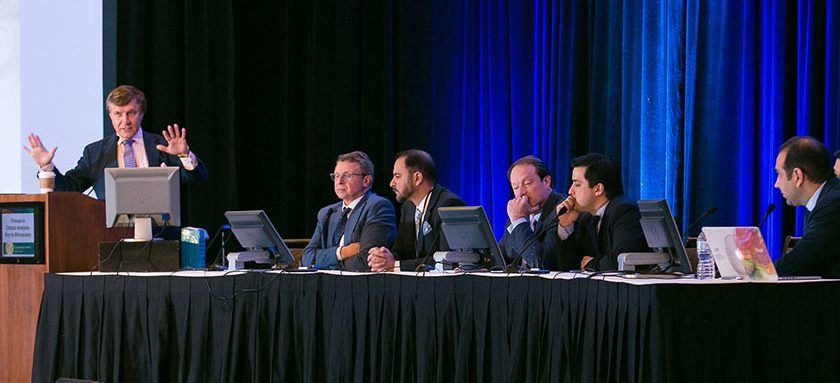 Dr. Rohrich is a sought after speaker, and lectures extensively in Dallas, the United States, and around the world on special topics such as Rhinoplasty – Getting it Right the First Time, The Aging Nose, Ethnic Rhinoplasty, Male Rhinoplasty as well as very specific lectures on rhinoplasty covering everything from Techniques in Tip Rhinoplasty to Nasal Cartilage Grafts and Secondary Rhinoplasty.
Dr. Rohrich's ultimate goal in rhinoplasty is to reshape the nose to look natural and create a balance with the other facial features to enhance the overall facial harmony.
Difficulty of Rhinoplasty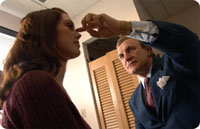 Dr. Rohrich would like to stress that rhinoplasty is one of the most difficult procedures in plastic surgery to achieve consistently good results. The difference between a good result and a bad result in rhinoplasty can be a matter of one millimeter. The best rhinoplasty surgeons must have both delicate surgical skills and an outstanding sense of aesthetics.
"Rhinoplasty is a surgery of millimeters. It really epitomizes plastic surgery as a whole because it is a surgery of such great finesse and it takes years to master."
-Rod J. Rohrich, M.D., Dallas, Texas
Although many surgeons perform rhinoplasty in Dallas and Forth Worth, remember that any doctor can legally attempt to perform a rhinoplasty even if they have little or no training – so make sure to chose your plastic surgeon very carefully. Make sure they are board certified and research them thoroughly.
Secondary Rhinoplasty
Up to 50 percent of the rhinoplasty patients that Dr. Rohrich sees are for a secondary or revision rhinoplasty to correct mistakes and deformities which happened during their first or primary rhinoplasty. The intricate nature of the structures within the nose makes a secondary rhinoplasty an especially difficult and complex procedure. The best rhinoplasty is one that will not have to be redone.
After a second or third revision, the chances of achieving desirable results becomes very minimal. It cannot be overstated how important it is to chose your rhinoplasty surgeon carefully and make sure to have it done right the first time.
"Some people spend more time finding the right pair of shoes than they do finding a plastic surgeon. You can take back your shoes, but you can't take your face or your life back."
-Rod J. Rohrich, M.D., Dallas, Texas
Rhinoplasty at Different Ages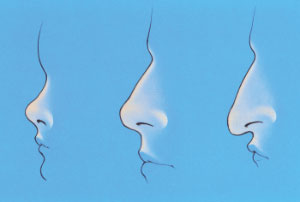 As we age, the shape of our face changes and the nose is no exception. Using rhinoplasty to reshape the nose in a younger person is an entirely different treatment than treating the effects that age causes in our noses.
In this image taken from the Dallas Rhinoplasty Book, you can see an embellished illustration of how the nose ages. When younger, a person's nose turns slightly upward which is one of the many things that gives a youthful appearance. As we age, the nose turns downward and seems to become larger in proportion to the rest of a persons face.
For a younger person, the reason for a rhinoplasty might be to reshape the nose to better match the face. For an older person, the reason for a rhinoplasty might be to reduce the signs of aging and the onset of a droopy nose to provide a more youthful and refreshed appearance.
Rhinoplasty Cost
Unfortunately, it will be difficult to provide patients with the estimated cost of a rhinoplasty until you have been examined. The cost can vary depending on the details and complexity of the surgery.
Generally speaking, there are usually 3 different costs for surgical procedures such as rhinoplasty:
Surgeon's Fee:
Supports the surgeon performing the rhinoplasty and his practice.
Hospital Fee:
Supports the operation of the hospital, operating room, staffing, and related items.
Anesthesia Fee:
Supports specialists and medication to safely sedate patients for surgery.
One last cost to consider when planning for rhinoplasty is the cost of any medications you may need to take as part of your recovery process.
In Dr. Rohrich's office in Dallas, quotes are usually given with all three of these fees considered. The best thing to do is come in and have a consultation with Dr. Rohrich so he can carefully analyze you and determine exactly what will be needed and how much it will cost.
Consultation for Rhinoplasty
The best rhinoplasty candidates are individuals that are healthy, non smokers which are looking for improvement, but not perfection in the way their nose looks.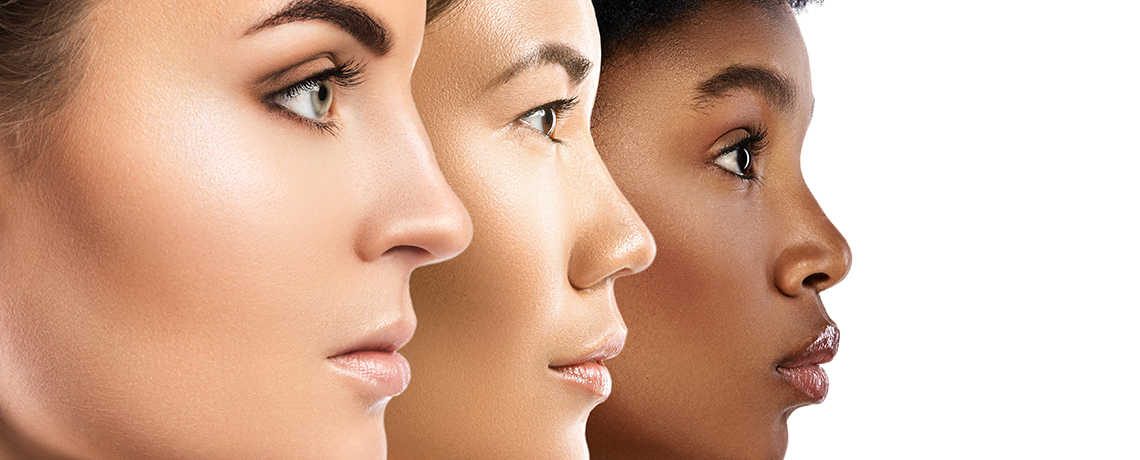 During your consultation, Dr. Rohrich will carefully analyze your nose. He will ask you about your medical history and he will definitely want to know about any nose injuries you have had no matter how minor or how long ago. He might also ask you to bring along some pictures of yourself when you were younger and listen to your own thoughts about your nose and your appearance. These things will help guide the way to the best rhinoplasty possible.
You will be brought to a medical photography studio and detailed photographs will be taken of you for Dr. Rohrich to review. Dr. Rohrich will meet with his medical photographer and discuss your specific situation and together they will develop a preview image (which we refer to as "Imaging") based on your photos and Dr. Rohrich's analysis. This imaging is a service is a part of your consultation with Dr. Rohrich when you visit his Dallas office. It will help to give you an idea what you can expect your nose to look like after the surgery and how it will appear in proportion to the rest of your face after your rhinoplasty.
After your photographs are taken, you will meet with Dr. Rohrich's patient care coordinator to discuss potential dates for surgery, payment and billing based on the specific details that Dr. Rohrich has indicated will be involved in your rhinoplasty.