Breast augmentation surgery is a procedure performed to enhance the size and shape of a woman's breasts by surgically placing an implant behind each breast to increase its volume and enhance its shape. You may want to restore your breasts due to changes that occur after weight loss, childbirth or as a result of aging. In each of these types of cases, the effect of breast augmentation is not only an improved physical appearance but can also enhance your self-esteem. Dr. Rohrich will guide you with his experience and expertise to help you obtain the ideal breast shape that will both complement and enhance your body proportions.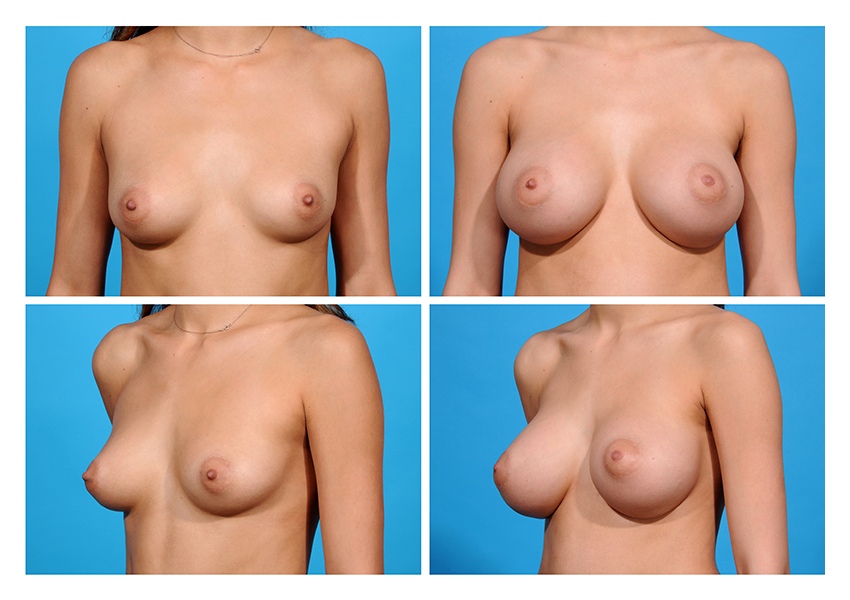 If you're considering breast augmentation, the information provided will give you a basic understanding of the procedure but it can't answer all of your questions, since a lot depends on your individual circumstances. For more information, click on the "Frequently Asked Questions" to read more information concerning this surgical procedure.
Am I a good candidate for the surgery?
Breast augmentation can enhance your appearance and your self-esteem, but it won't necessarily change your looks to match your ideal, or cause other people to treat you differently.
The best candidates for breast augmentation are women who are looking for improvement, not perfection, in the way they look. If you're physically healthy and realistic in your expectations and have a reasonable desire to have your breasts enlarged you may be an appropriate candidate. Your visit with Dr. Rohrich will determine if you are a good candidate.
Before you decide to have surgery, think carefully about your expectations and discuss them with Dr. Rohrich.
What should I expect from my consultation?
During the consultation, you will be asked about your desired breast size and anything else related to the appearance of your breasts that you feel is important. This will help Dr. Rohrich understand your expectations and determine whether they realistically can be achieved. He will examine your breasts and will consider such factors as the size and shape, the quality of your skin and the placement of your nipples and areolas. If your breasts are sagging, a breast lift may be recommended in conjunction with augmentation. You may find it helpful to bring examples of breast sizes from magazines to illustrate to Dr. Rohrich your desired breast size. After your consultation Dr. Rohrich's photographer will take photographs for your medical record and you will meet with his patient coordinator to discuss the surgery fees and scheduling dates.
You should come to the consultation prepared to discuss your medical history. This will include information about any medical conditions, drug allergies, medical treatments you have received, previous surgeries including breast biopsies, and medications that you currently take. You will be asked whether you have a family history of breast cancer and about results of any mammograms. It is important to provide complete information.
How is the surgery performed?
The method of inserting and positioning your implant will depend on your anatomy, individual factors and personal preferences. Dr. Rohrich will help you determine your appropriate breast size, the location of incisions, and whether the implants will be placed on top of or underneath the chest muscle. The incision can be made either in the crease where the breast meets the chest or around the areola. Every effort will be made to assure that the incision is placed so resulting scars will be as inconspicuous as possible.
Working through the incision, Dr. Rohrich will gently lift your breast tissue and skin to create symmetrical pockets, either directly behind the breast tissue or underneath your chest wall muscle (the pectoral muscle). He will then insert the implants and fill them with saltwater. The surgery usually takes 1 to 2 hours to complete. Sutures are used to close the incisions, which may also be taped for greater support. A surgical bra may be applied over your breasts to help with healing and to reduce swelling.