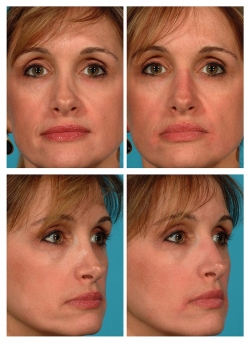 The use of fillers or the "liquid rhinoplasty" is a quick fix for improving nasal appearance while a true rhinoplasty is the most challenging surgical procedure done in all of plastic surgery. That is why both procedures must be done by a rhinoplasty expert – one who knows how to shape a nose surgically and knows the anatomy of the nose intimately so it is done safely and effectively in both a cosmetic and functional manner. Patients desire a liquid rhinoplasty for the following reasons.
Want to "try out" a rhinoplasty
Cannot afford a surgical rhinoplasty
"Bridge" to their secondary/tertiary rhinoplasty
Do not desire a surgical rhinoplasty
Should not have any further nasal surgery
How much does a liquid rhinoplasty cost?
The procedure typically costs around $2,500, the cost may vary depending on the exact details of your specific circumstances.
How long does it last?
Typically lasts 9-12 months or longer.
Is the filler permanent?
It is NOT permanent and permanent fillers should never be used in the nose.
What are the best fillers for a liquid rhinoplasty?
The best fillers are FDA approved hyaluronic acid fillers such as Restylane or Juvederm.
Who should do your liquid rhinoplasty?
Your liquid rhinoplasty should be done by a true rhinoplasty expert who does this procedure very frequently as they know the delicate anatomy of the nose. This is key to prevent problems such as skin loss of the nose and face and to obtain excellent results.
Can one have a surgical rhinoplasty after a liquid rhinoplasty?
Yes, if one has used a safe, resorbable Hyaluronic acid filler as recommended, a surgical rhinoplasty can still easily be performed as I do very often in a safe manner.
Does one have to melt the Hyaluronic acid liquid filler prior to a surgical rhinoplasty?
No, this is not necessary if one has used a FDA approved filler.
Is a liquid rhinoplasty safe?
Overall, a liquid rhinoplasty or nasal augmentation with fillers is safe. Rhinoplasty, like all surgery, has some inherent risks but complications are rare. Make sure your rhinoplasty surgeon tells you about all the risks and benefits before your procedure.
Does a liquid rhinoplasty make your nose larger?
A liquid rhinoplasty can make ones nose larger as you are adding a filler to camouflage a dorsal hump or refine a nasal tip.