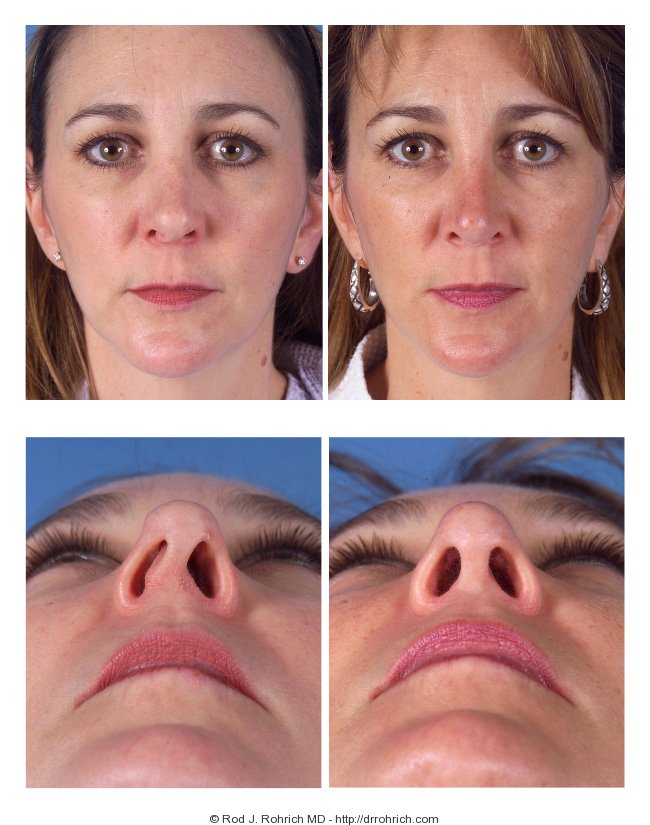 Secondary or revision rhinoplasty is a much more involved surgical procedure that is done to restore both nasal shape and function. This is usually the result of previous surgery or trauma. It can also help relieve breathing problems.
A patient who is considering a secondary or revision rhinoplasty should carefully select his or her surgeon. Secondary rhinoplasty is the most difficult cosmetic plastic surgery procedure to perform successfully in a consistent manner. The difference between a good result and a poor result in a secondary rhinoplasty is 1-2 millimeters. It is essential that you choose an experienced secondary rhinoplasty surgeon who is not only qualified, but a surgeon who has a strong aesthetic style and talent in secondary rhinoplasty. Secondary rhinoplasty surgery is so much more as it is about art and is surgery to realistically achieve the patient's goals.
Am I a good candidate for the surgery?
The best candidates for secondary rhinoplasty are individuals that are both emotionally and physically healthy as well as realistic about the potential for improvement. One with a secondary nasal problem should be looking for improvement, not perfection. Dr. Rohrich prefers to carefully evaluate the patient with a secondary nasal problem to assess their deformity and make sure the patient is realistic about the potential revision. Depending on the type of deformity, one may/may not totally improvement of the nasal shape or function. Deciding to have secondary nasal surgery should not be an impulsive decision but rather one that is carefully thought out. That is why it is important to be realistic, be informed and be true to yourself about what really bothers you about your results.
What should I expect from my consultation?
During your secondary nasal surgery consultation, Dr. Rohrich will ask how you would like your nose improved. He will examine the inside and outside structure of your nose, and discuss the possibilities with you. He will also explain the factors that can influence the procedure and the results. These factors include the remaining structure of your nasal bones and cartilage, the shape of your face, the thickness of your skin, your age, and your expectations.
You will learn about the secondary nasal surgery, its limitations and risks, and discuss your needs and concerns. This will help Dr. Rohrich better understand your expectations and determine whether they can realistically be achieved. After your consultation a photographer will take photographs for your medical record and you will meet with Dr. Rohrich's patient coordinator to discuss surgery fees and schedule dates. You may also schedule an additional consultation to preview computer imaging. These may help you visualize the results of each technique that Dr. Rohrich has specifically designed for your surgery.
Be sure to tell Dr. Rohrich about all your previous nose surgery or if you suffered an injury to your nose, no matter how long ago it was. You should also advise him of any allergies or breathing difficulties, of any medications or vitamins you take, of recreational drug use, or if you smoke.
How is the surgery performed?
The rhinoplasty surgery for secondary nasal deformity is called an "open approach". The open approach, which Dr. Rohrich prefers, is performed by separating the skin of the nose from its supporting framework of bone and cartilage. This approach allows Dr. Rohrich to see the entire structure of the nose. He will then resculpt the nose to the desired shape. The nature of the sculpting will depend on the nature of your problem and Dr. Rohrich's preferred technique. There are an infinite number of techniques which can be utilized to sculpt the underlying framework when dealing with a secondary nasal revision. Dr. Rohrich prefers to use the patient's own tissue (such as cartilage septum, ear or rib).
When the surgery is complete, a splint is applied to help your nose maintain its new shape. Soft plastic splints may also be placed in your nostrils to stabilize the septum and divide the wall between the air passages in order to improve your nasal airway.