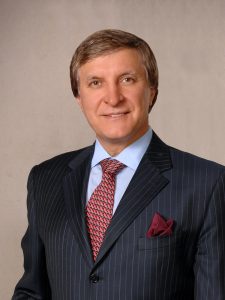 Dr. Rod J. Rohrich is an internationally known, highly respected and skilled plastic surgeon with a global clinical practice at Dallas Plastic Surgery Institute in Dallas, Texas. He is also a Clinical Professor of Plastic Surgery at the Baylor College of Medicine. He is board certified by the American Board of Plastic Surgery and has led most of the key professional organizations in plastic surgery in the USA. Dr. Rohrich has been honored by his peers to be one of the most influential physicians and plastic surgeons in this current era.
He served as President of the American Society of Plastic Surgeons (the largest group of board certified plastic surgeons in the world); President of the Association of Academic Chairs of Plastic Surgery; President and founding member of The Rhinoplasty Society; President of the Dallas Society of Plastic Surgeons and President of the Texas Society of Plastic Surgeons. He also chaired the Residency Review Committee for Plastic Surgery – the key group that monitors the quality of accredited plastic surgery training programs in the USA. He also served as a Director and Chair of the Oral Exam of the American Board of Plastic Surgery, the group that awards board certification to plastic surgeons. He has received numerous honors and awards in plastic and cosmetic surgery, both nationally and internationally.
In addition to his extensive surgical expertise and talent as a gifted surgeon, he is a past professor/chair of the Department of Plastic Surgery at UT Southwestern and is the first plastic surgeon to be appointed a Distinguished Teaching Professor at UT Southwestern Medical Center. While he was chair, Dr. Rohrich transformed the department into the best residency in plastic surgery as well as the largest and most academically productive plastic surgery department in the USA.
He has authored hundreds of innovative academic publications in the field of plastic surgery. As Editor-in-Chief of the leading plastic surgery journal, the Journal of Plastic and Reconstructive Surgery (PRS), he has transformed PRS into the best and most respected peer reviewed journal worldwide in plastic surgery. Dr. Rohrich also developed and serves as Editor-in-Chief of the first open access peer reviewed plastic surgery journal in North America – PRS Global Open.
Dr. Rohrich has also performed philanthropic work as a civic leader of organizations such as the March of Dimes, American Cancer Society and Save the Children. He established the Rod J. Rohrich, M.D. Foundation, which supports medical students in his native North Dakota. He also established the University of Michigan Rod J. Rohrich, MD Family Visiting Professor Lectureship to advance plastic surgery education. He is a founding member and founding President of the Alliance in Reconstructive Surgery (AiRS), which serves to support education and reconstructive surgery for breast cancer survivors, regardless of financial status. Dr. Rohrich has repeatedly been featured as one of the best plastic surgeons in the country by US News and World Report, Harper's Bazaar, Good Housekeeping and Texas Monthly as well as being quoted in notable publications such as the New York Times and Boston Globe. He has appeared on many television shows including Oprah, the View and Good Morning America and is currently working to provide a trusted and reliable online source for all aspects of health care information that the consumer can use to make informed healthcare decisions for themselves and their families.
Dr. Rohrich's Full Curriculum Vitae(PDF)