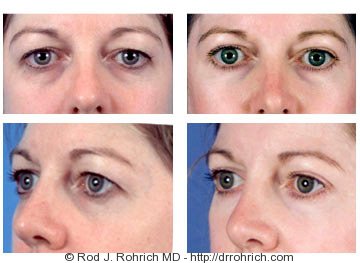 Eyelid surgery, technically known as blepharoplasty, is a procedure that removes fat, excess skin and muscle from the upper and lower eyelids. The surgery can correct drooping upper lids and puffy bags under the eyes that make you appear old and tired and that sometimes interferes with your vision. Dr. Rohrich's philosophy is to rejuvenate the eyelids by restoring the eyelid shape and contour. He believes the old techniques of performing eyelid surgery by over-excising skin, muscle and fat only achieve in making the eyes look older more rapidly. "We shouldn't accelerate this process as surgeons by removing in excess what aging already takes away."
The information provided will give you a basic understanding of the procedure but it can't answer all of your questions, since a lot depends on your individual circumstances. For more information, please view the "Frequently Asked Questions" or visit his "Resource Library" for related articles, websites and video clips.
Am I a good candidate for the surgery?
Upper and Lower Eyelid Surgery Your visit with Dr. Rohrich will determine if you are a good candidate. If you are in good physical and mental health with reasonable expectations you should be an appropriate candidate. Most candidates are over 35 years of age but if droopy, baggy eyelids run in your family, you may decide to have the surgery at a younger age. Many patients decide to have the surgery performed at an early age as it is one of the first features of the face to show signs of aging.
A few medical conditions can make this surgery more difficult. They include thyroid problems such as hypothyroidism and Graves' disease, dry eye or lack of sufficient tears, high blood pressure or other circulatory disorders, cardiovascular disease and diabetes. A detached retina or glaucoma are also reasons for caution. Check with your ophthalmologist before you have surgery.
Before you decide to have surgery, think carefully about your expectations and discuss them with Dr. Rohrich.
What should I expect from my consultation?
During your consultation, you will learn about the surgery, its limitations and risks, and discuss your needs and concerns. This will help Dr. Rohrich understand your expectations and determine whether they realistically can be achieved. Dr. Rohrich will carefully examine your eyelids to assess the shape of the lids and asymmetries to determine what type of procedure would best maximize your result.
After your consultation a photographer will take photographs for your medical record and you will meet with Dr. Rohrich's patient coordinator to discuss the surgery fees and scheduling dates. You may also schedule an additional consultation to view computer imaging so that you can visualize the results of the eyelid techniques that Dr. Rohrich has specifically designed for your surgery.
You should come to the consultation prepared to discuss your medical history. You should provide any relevant information from your ophthalmologist. Also provide information about any medical conditions, drug allergies, medical treatments you have received, previous surgeries and medications that you currently take. It is important for you to provide complete information.
How is the surgery performed?
In a typical procedure, Dr. Rohrich will make incisions following the natural lines of your upper eyelid creases and just below the lashes on the lower lids. Working through these incisions he will separate the skin from the underlying fatty tissue and muscle, conservatively remove a minimal amount of excess fat and trim the sagging skin and muscle if needed. Often Dr. Rohrich will perform a "lateral canthopexy" to tighten the outer part of the eye. This makes the eyes appear youthful and fresh. The incisions are then closed with very fine sutures.
If you have a small pocket of fat beneath your lower eyelids but don't need to have any skin removed, Dr. Rohrich may perform a transconjunctival blepharoplasty. In this procedure the incision is made inside your lower eyelid leaving no visible scar.