Newsweek Ranks Dr. Rohrich as the Best Plastic Surgeon in the US for Rhinoplasty and Facelifts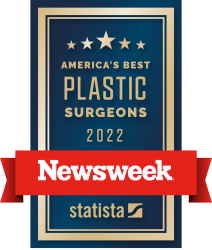 For two consecutive years, 2021 and 2022, Newsweek has recognized Dr. Rohrich as the Best Rhinoplasty Surgeon in the United State and the Best Facelift Surgeon in the United States. In 2022, Dr. Rohrich was ranked in the first position at number 1 for rhinoplasty surgeons 1 in facelifts, number 3 in liposuction, number 4 in blepharoplasty, and number 6 in breast augmentation. Dr. Rohrich also ranked number 1 in both rhinoplasty and facelifts on 2021 list.
Newsweek's ranked lists were the result of an independent national survey of physicians, surgeons, clinic managers, and health care professionals in plastic surgery generating thousands of recommendations. Each candidate on the list was given an associated quality score based on that surgeon's expertise, surgical process, post-operative follow-up care, surgical outcomes, and overall quality of care provided by the candidate.